It is the text from here.
Update day: March 15, 2016
About this site
Top page of Kirishima-shi homepage is managed from the following areas (domain).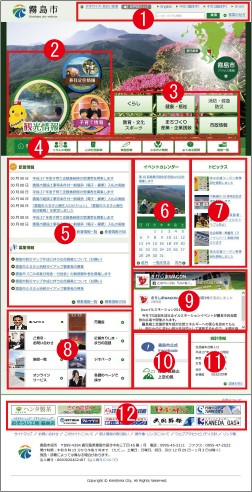 Of letter enlarge and reduce, and function, and guidance to foreign language translation site, search in homepage are possible accessibility support of change of hue.
We display entrance to sightseeing information, emigration domiciliation information, child care information.
We divide information of homepage into category and let you always display as common menu. As we display on all pages, we can access information to want to see from this menu anytime.
We do *de and place information with much access as button.
We compile update information of Kirishima-shi homepage as "latest information" "offer information" each. Subscription by RSS leader is possible, too.
We can look for holding informations such as events from calendar.
We compile news from Kirishima-shi as "topics".
Room, municipal assembly, public information of the mayor publish entrance to link and on-line service to islands, list of facilities. We can find out information of list of facilities from map.
We display contents of "drill island WAGON" Facebook.
We publish "Kirishima-shi formula" Facebook and link to wind of Sakurajima, the Mount Kirishima sky.
We publish men's and women's population or number of the households.
We display paid ad banner.
Please let know your opinion to have better website