It is the text from here.
Update day: September 6, 2017
Local support coupon
Public information attached hometown support "coupon" first for the local government of the prefecture that was usable for the purpose of activation of regional economy from May, 2013 issue in shop in the city in island. Do you not go to shop and the first shop to be worried about using advantageous coupon? You cut attached coupon along dotted line in island, and please use public information.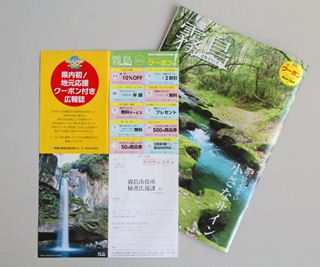 Coupon (expiration date: until the end of October, 2017) of September issue publication
Company, reference, address

Service contents

Handmade shop restaurant first building

Meal menu

Pull of 150 yen per person

patisurishie Aoyama

45-5727

It is purchase more than 1,000 yen

10% OFF

Yonezawa of glasses

43-8666

1F (we link to outside site) in 1229, Hayatochomitsugi ion

46-8850

1-27-8-1, Kokubuchuo life garden Kokubun (we link to outside site)

Than store stated value glasses, hearing aid

5%OFF

Focus consumers' cooperative COOP Kokubun shop of camera

45-4450

1-53-1, Kokubufuchucho consumers' cooperative COOP (we link to outside site)

Digital camera print L size, postcard size half price

iPhone repair 1,000 yen discount

Medical heat hand kunorojisupa onnetsu*tokusha (eitokusha)

090-1366-2989

Pain remission course (60 minutes)

It is 3,000 yen for 3,500 yen

Chinese food bean 1,000

090-1916-1216

Only as for the noon

It is usually hemp grandmother bowl 500 yen for 700 yen

BOULANGERIE NOEL (buran Jeri Noel)

42-1718

It is purchase more than 1,000 yen

Coffee one cup service

Feast Happiece (happy) of forest

57-0057

Lunch buffet

100 yen discount
Coupon (expiration date: until the end of September, 2017) of August issue publication
Company, reference, address

Service contents

Home Made Bakery Cinnamon (cinnamon)

78-4200
3590-124, Makizonochotakachiho (we link to outside site)

From the total sum of purchase

10% OFF (only as for the bread)

Restaurant peach charges

43-3350

Next 121-2, Hayatochotougo NAFCO Hayato store (we link to outside site)

Lunch menu

100 yen discount

Maloop (marupu) for hair

45-0110

New visitor

Permanent color 20%OFF

Person of okonomiyaki, grilling foods on an iron plate bow

45-8845

Lunch set of normal 200 yen

(salad, steamed egg hotchpotch, drink dessert) free of charge

Business trip mender third warehouse of bicycle

55-0355

Flat repair (normal 945 yen)

500 yen (tax-included)

Business trip charges 0 yen! Business trip area (Kokubu, Hayato)

Kirishima Heights mahorobano village

78-2240

Such as ski go-cart putter golf

Facility use ticket (500 yen) present

sho n

42-8839

Chicken Nanban set meal

It is 500 yen for 750 yen

Hot water of flatfish river

54-6060

Family bath (except inside bath type) with open-air bath

Half price (except Saturday and Sunday, celebration, from 11 to 16 on August)
With other discount, services cannot use together. Use of copy is not possible.
Guidance of publication of coupon
Public information recruits companies offering coupon to island.
You download application than the following, and please use whether you propose more directly than the following input form.
Publication is free, but there are conditions such as there not being city tax delinquency.
Downloading of file

When you see file of Portable Document Format, Adobe Reader is necessary. Please download one that does not have Adobe Reader free from link of banner.